We were lucky in our flight from Campinas to Rio de Jineiro was only about 15% full. This allowed us to move a row back so we had buffer rows from all other passengers. This is handy with a 14 month old. There were about five empty rows behind us before you saw another passenger on either side of the plane. The flight itself flies east to just north of São Paulo, and then up the coast to Rio. The good news for us, is we were able to see splendid coastlines all the way up!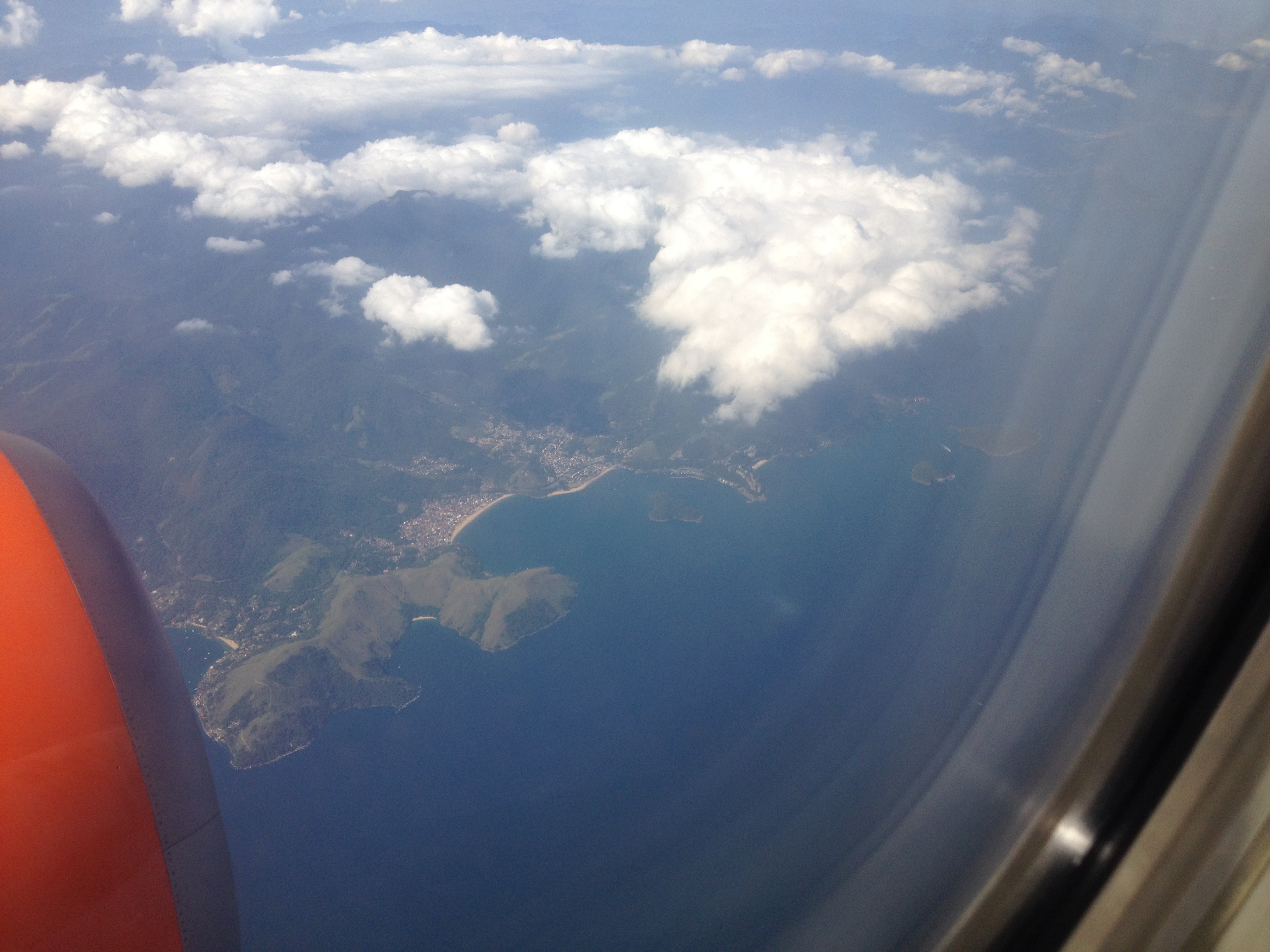 Note: The above picture is no where near Rio. It just shows there are a lot of great beaches here.
Arriving in Rio
We flew into the Santos-Dumont airport. It's named after the Brazilian father of flight mentioned in an earlier post. The cool part of this airport is:
You can see Sugarloaf from the runway.
It's on the same side of the bay as Copacobana and Ipanema, and a quick cab ride to either.
When you get off the plane onto the tarmac, you hop on a bus to go to the terminal. The baggage claim is right there, so you get your stuff ASAP!
Here's a shot of Sugarloaf from the bus on the tarmac: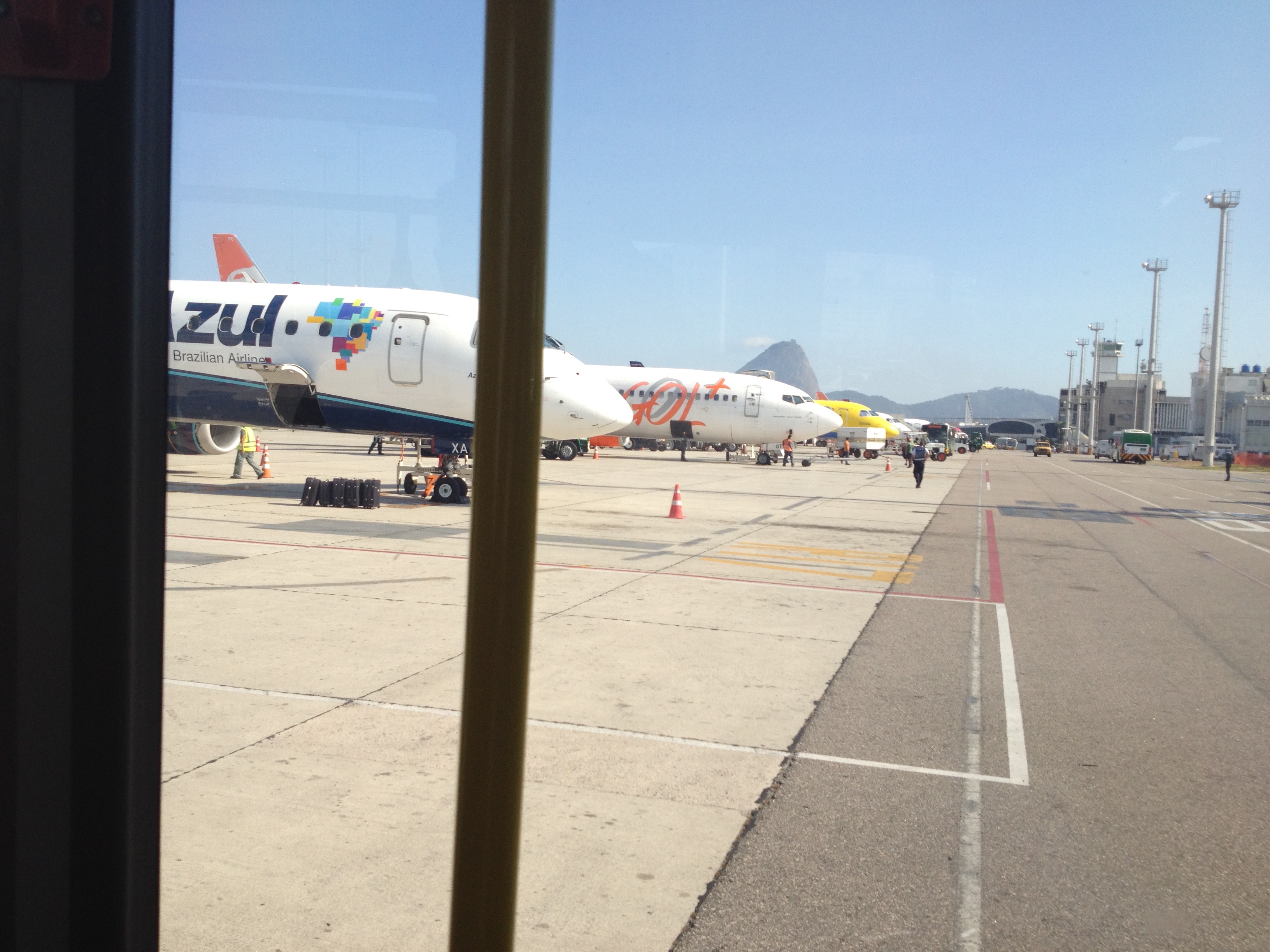 The crappy parts of Santos-Dumont airport:
They have cameras at the baggage claim so you can see workers load your bags because they've had problems with baggage handlers stealing things.
The second you leave the baggage claim, which is a small room, you are immiedately in public. And there are crack heads walking through that area. We saw two crack heads before anyone else.
It's near a rough neighborhood, lots of crack heads from what I'm told. Get a cab, don't walk to the Metro/Subway.
We fly out of a different airport when we fly back to the US next week. It's further from where we're staying, but it's bigger and nicer.
As a note on the Subway: We have used it from other parts of the city, we just didn't feel the walk was worth the risk with a ton of bags screaming "We're not from here!"
Copacabana
Copacabana is one big beach, and it's close to where we flew in. The roads from the airport to the beach go along the coast line, which is very pretty. I even snapped another picture of Sugarloaf on the way: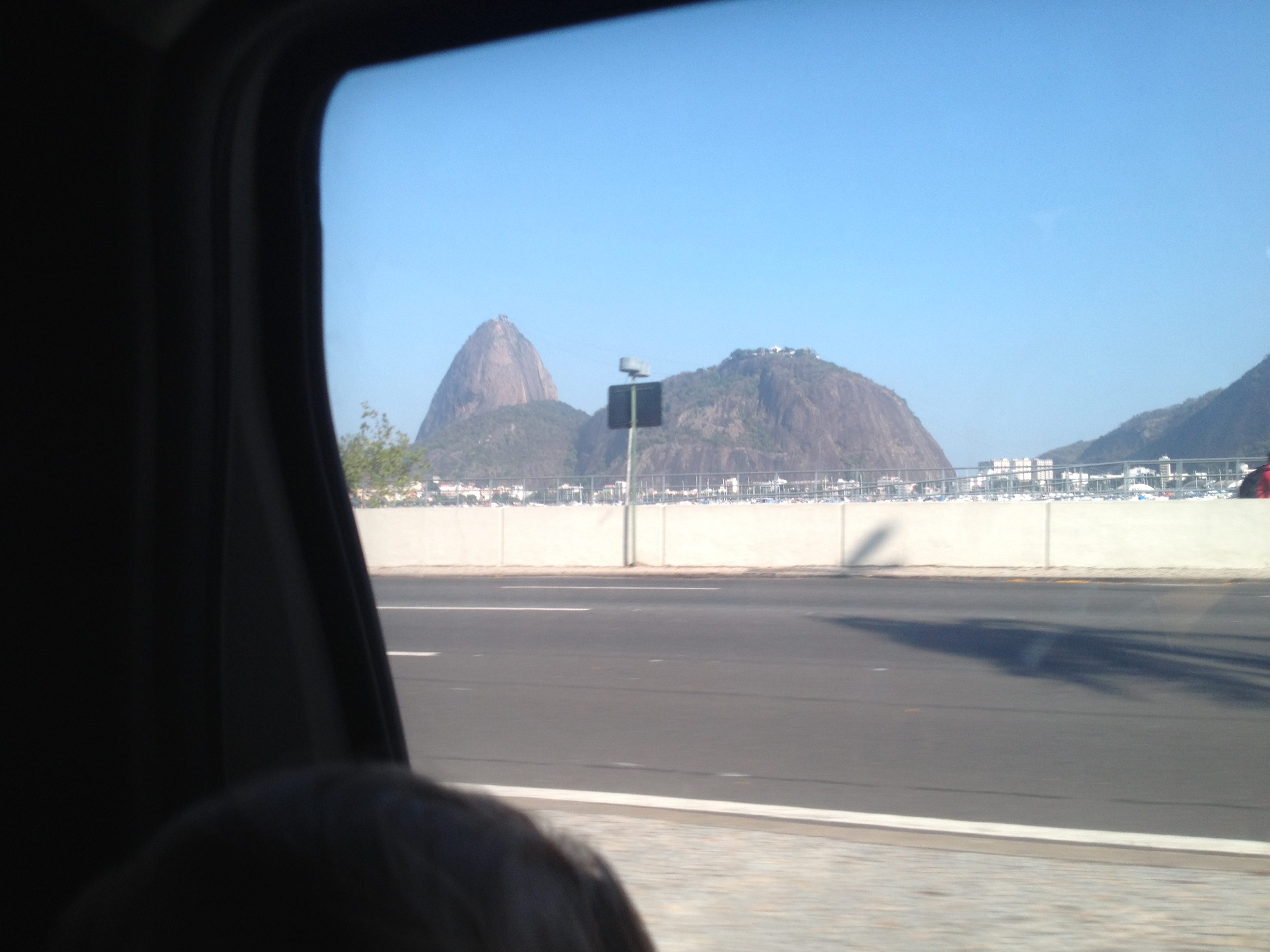 Sugarloaf is visible from Copacabana. The beach basically runs all the way to it. We'll be checking out Sugarloaf next week with Jenifer's sister.
The hotel we're staying in right across the road from the beach. This is a photo from our room: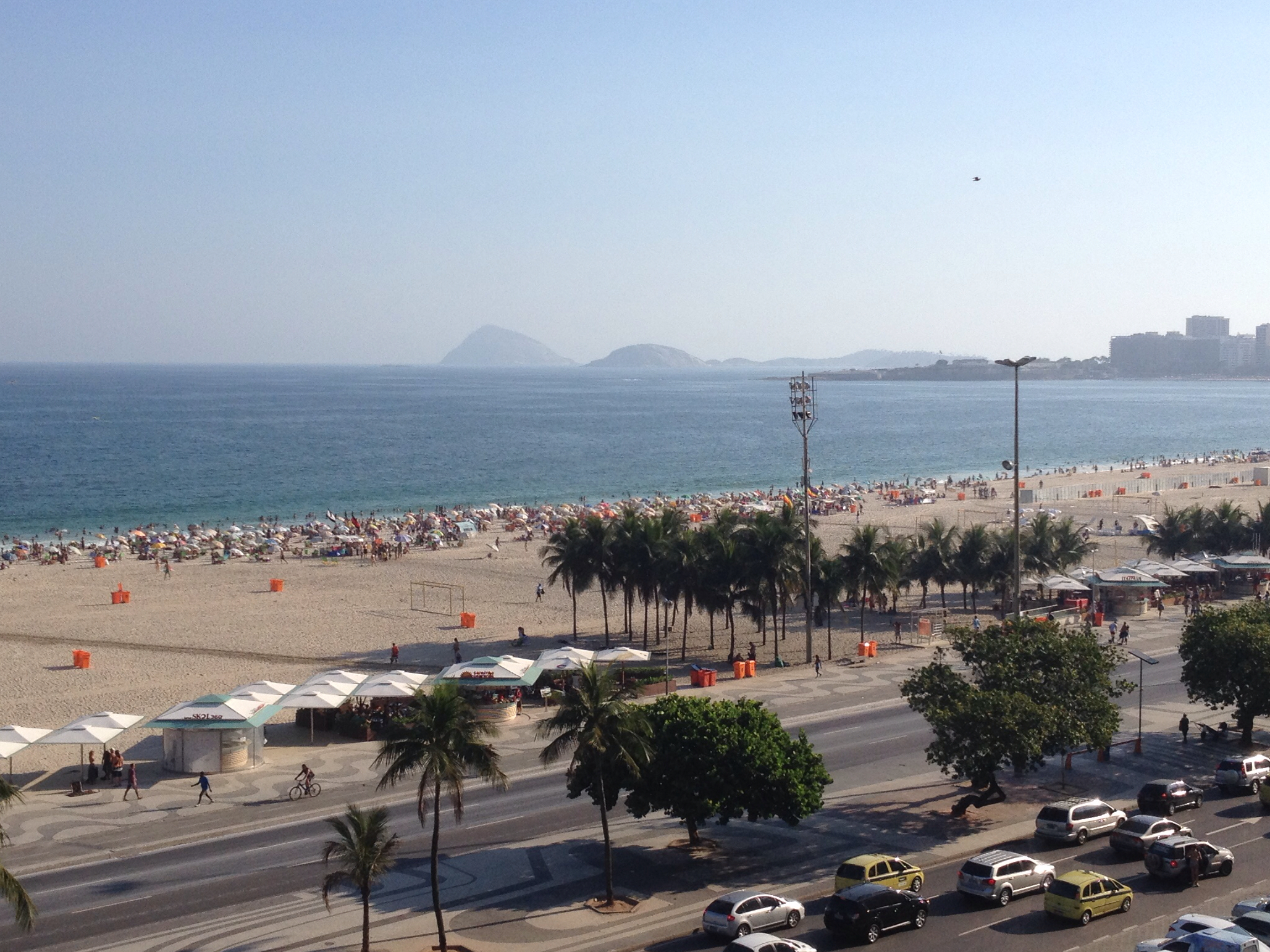 We're on the 7th floor of our hotel on the side, so we only have this angle view of the beach. I'm not cutting anything off, there is no need for panoramic shots from our room.
So I figured with this little balcony with a table and two chairs, that it could be used for studying Portugues. So I hopped onto Rosetta Stone and took this picture: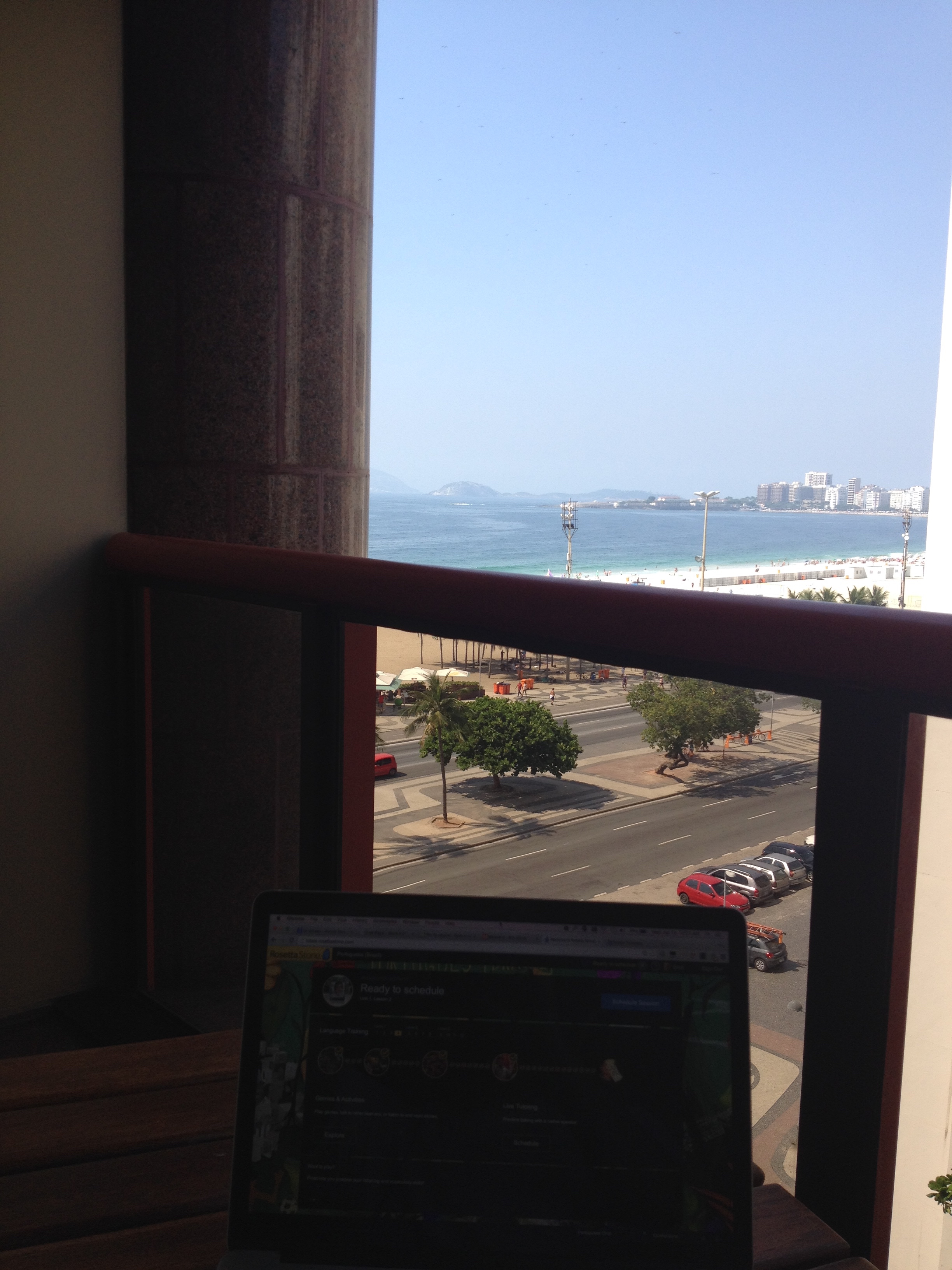 After struggling through one noise while fighting all the background noise, I realized this wasn't going to work. I was tired of yelling at my computer. Since the only time I can do this is when the baby is sleeping, I had to resort to my backup plan. The bathroom: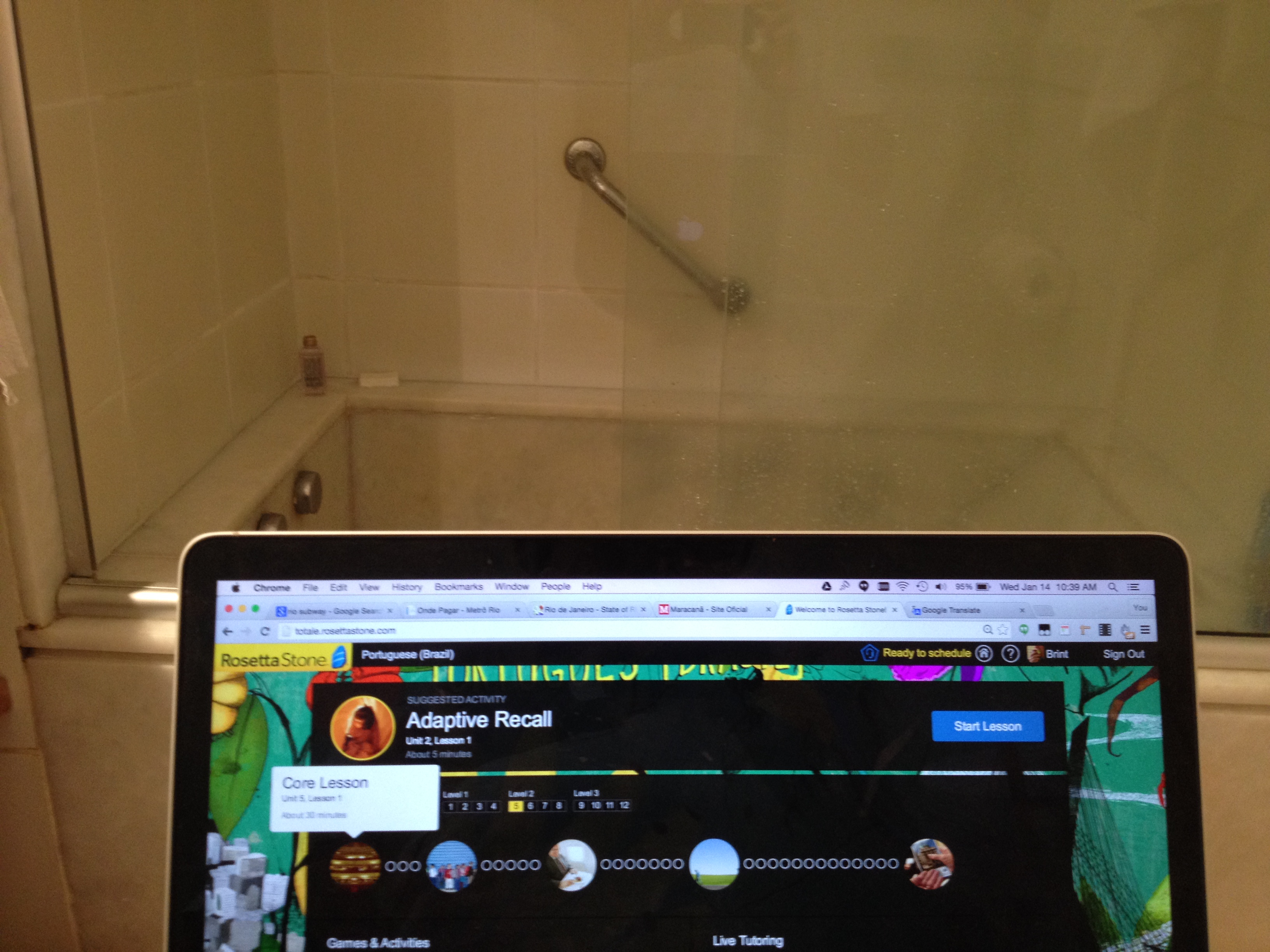 This is a perfect, "How I think I'm going to study," versus, "How I'm actually going to study," representation.